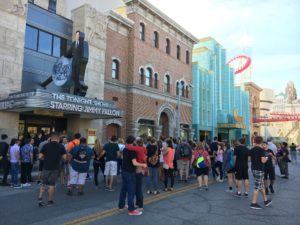 Race Through New York Starring Jimmy Fallon will officially open April 6, 2017, but if you're lucky you may get a chance to experience this new 3D simulator attraction during "soft openings," which are going on now! Soft opening, or "Technical Rehearsal" as Universal calls it, is like a practice run for the attraction. Some effects or elements may not be working, some things may change as they work the kinks out, and most importantly, there's no guarantee that the attraction will be open at all during this time and may close down at any given moment. Lately the ride has been operating in the afternoon each day, and over time that should move to be all day for most days. Check with the ride attendant out from in the morning to see if they know anything, and check back throughout the day for your chance to ride during a soft open.
This brand new attraction features a unique queue-less design, giving guests the chance to explore the Tonight Show museum, relax in the 30 Rock Lounge, and see some live entertainment while they wait. I was very impressed with the entire experience all around. If this were simply just the four minute ride I don't think I would've liked it as much as I did. This park needs more long experiences now that Twister, Beetlejuice, and Disaster have closed, and you can easily spend 30 minutes in this attraction just soaking in the queue areas and fun entertainment.
The ride will utilize a Virtual Line reservation system after it officially opens next month. This will allow you to reserve a time to come back, either through the Universal mobile app or one of the new kiosks near the ride entrance. You will still need to wait a short period once you enter, but that time is spent enjoying the museum and live entertainment, and should be considered part of the attraction overall. They've even included comfy chairs with mobile device charging stations, which is not too shabby a way to wait for a ride.
See the video for the latest construction update, full queue experience and live entertainment, and check out the photo report below for more information as well as more of my thoughts on the attraction! And stay tuned for more theme park news and updates coming soon.